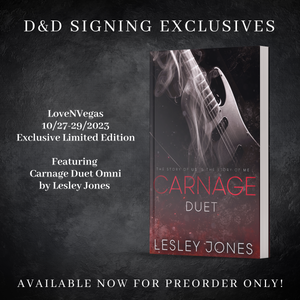 LOVENVEGAS SIGNING EXCLUSIVE - Carnage Duet by Lesley Jones
THIS LISTING IS FOR LOVENVEGAS IN PERSON PICKUP ONLY!
Carnage Duet (Omnibus) by Lesley Jones
One book PER CUSTOMER—multiple copies on your order will result in a cancelled order. EACH BOOK MUST BE PURCHASED SEPARATELY!
You may pick up for a friend, but you must have their full name and order number.
You will pick these up from our table directly—books will not be signed.
No rep codes may be used.
This is an open preorder. We will keep it open until 8/31.